A JOURNEY INTO SELF IN SOUTH AFRICA AND BOTSWANA WITH THE VICTORIA FALLS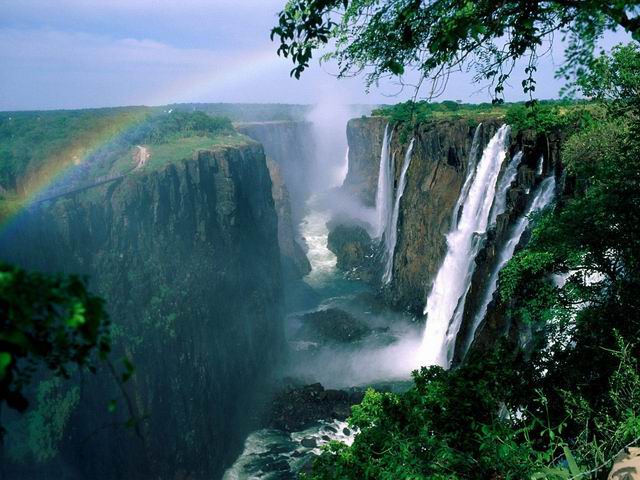 October 3rd - 16 2009
Our visit in 2006 to Kenya and Tanzania was so fabulous that we have decided to return to Africa, this time to South Africa. Highlights on this trip will be: Cape Town, often called the most beautiful city on earth, with Dutch colonial sophistication, dramatic coastal roads and fine wineries located nearby; Zululand, home to proud native tribes and spectacular scenery; a safari in Kruger National Park in South Africa; a second safari in Chobe National Park in Botswana; the township of Soweto, where Nelson Mandela lived before his incarceration and the Apartheid Museum in Johannesburg; and the awe-inspiring Victoria Falls in Zimbabwe. Elective extensions are available.
South Africa, Botswana & Victoria Falls
14 DAY ESCORTED
$7418.00 PER PERSON, LAND ONLY
Additional $600.00 for the Journey Into Self
Contact Teleosinst@aol.com for questions and registration


Explore the wonders of southern Africa: game viewing in Botswana's Chobe National Park, Zambia's fabulous Victoria Falls, plus South Africa's Kruger National Park, the Cape Winelands, and Cape Town. The region possesses a natural glory that dazzles, from desert to bushveld, from mountain peaks to wide, unspoiled beaches, and from majestic waterfalls to the crashing Cape of Good Hope ocean waves. You can spot the Big Five in a single day of game viewing and stay in one of the most beautiful destinations in the world - Cape Town. Topping on the cake is the visit to Victoria Falls, one of the Seven Natural Wonders of the World.

HIGHLIGHTS:
* Two-day private game reserve stay beside Kruger National Park
* Three-day stay at Cape Town's Victoria & Alfred Waterfront
* Tour the Cape Winelands, with wine tasting and overnight
* Cable car ride up Table Mountain and excursion to the Cape of
Good Hope
* Visit Victoria Falls
* Finale game viewing in Botswana's Chobe National Park

WHAT'S INCLUDED:
* 2 nights at The Michelangelo Hotel in Johannesburg
* 2 nights at Thornybush Main Lodge or Imbali Safari Lodge beside
Kruger National Park
* 3 nights at the Table Bay Hotel in Cape Town
* 1 night at Le Franschhoek Hotel & Spa in Franschhoek
* 2 nights at Royal Livingstone Hotel, Livingstone
* 2 nights at Chobe Marina Lodge, Chobe National Park
* 11 breakfasts(B), 6 lunches(L), 10 dinners(D)

Day 1 Saturday, October 3
Fly from home to Johannesburg, South Africa.
Day 2 Sunday, October 4
Arrive PM Johannesburg
The Michelangelo Hotel
Day 3 Monday, October 5
Johannesburg
Morning free, Afternoon tour of the city, welcome reception/dinner
The Michelangelo Hotel (BD)
Day 4 Tuesday, October 6
Soweto/Private Game Reserve
Join the enlightening tour of Soweto, an acronym for South Western
Townships. Originally the living quarters for goldmine workers, Soweto
is famous as the flash point of the 1976 race riots, which signaled the
end of apartheid in South Africa. Then fly to a private game reserve for two nights adjacent to world-famous Kruger National Park. The area
attracts elephants, white rhino, giraffe, antelope and their predators,
the great cats--cheetah, leopard and lion. Game viewing is prime; the
surrounding bush holds high wildlife concentration. Dine in the glow of
the open boma's fire and sleep in air-conditioned comfort, as billowing
mosquito nets surround your bedstead. Be transported to a bygone era of
Africa, enjoying this classic safari experience.
THORNYBUSH MAIN LODGE or IMBALI SAFARI LODGE (BLD )

Day 5 Wednesday, October 7
Private Game Reserve
Your safari adventure continues on early morning and late afternoon game drives, in open Land Rovers. You are accompanied by an experienced
ranger and a tracker. Laze away the afternoon in camp or accompany the
ranger on a game walk through the bush. Africa comes alive as the sun
sets and your game drive is extended to look for nocturnal animals.
THORNYBUSH MAIN LODGE or IMBALI SAFARI LODGE (BLD)

Day 6 Thursday, October 8
Kruger/Cape Town
The early morning game drive provides an exciting exit of the Kruger
area. Return to Joburg and connect to one of the world's most beautiful
cities, historic Cape Town. Stay three nights at the vibrant Victoria &
Alfred Waterfront.
TABLE BAY HOTEL (BD)

Day 7 Friday, October 9
Cape Town/Table Mountain
See the sights of beautiful Cape Town--the Malay Quarter, the historic
Dutch East India Company's Gardens, and the Waterfront. Weather
permitting, ascend one of Africa's great natural wonders, Table
Mountain. The cable car ride offers magnificent views of the town and
beaches. The afternoon is free in Cape Town and your hotel could not be
better located, on the Waterfront, at the doorstep of fine shops.
TABLE BAY HOTEL (BD)

Day 8 Saturday, October 10
Cape of Good Hope
Travel to the tip of Africa, the Cape of Good Hope, with breathtaking
ocean vistas. Sandy beaches, steep cliffs and wild flowers abound and
you pass through the Cape of Good Hope Nature Reserve, home to Bonte Bok and Cape mountain zebra. See the penguin colony at Boulder's Beach
before returning to Cape Town.
TABLE BAY HOTEL (BL)

Day 9 Sunday October 11
Cape Winelands/Franschhoek
Explore the Cape Winelands-South Africa's picturesque, premier
wine-producing region, featuring the stunning backdrop of the Hottentots (Holland Mountains) and loads of Cape Dutch architecture in Stellenbosch and Paarl. Stop for wine tasting and overnight in Franschhoek, where French Huguenots settled at the end of the 17th century, bringing with them their wine producing expertise. LE FRANSCHHOEK HOTEL & SPA (BD)

Day 10 Monday, October 12
Victoria Falls, Zambia
Catch a morning flight through Joburg, to Livingstone, gateway to the
Zambian side of Victoria Falls. The Falls are more than a mile wide and
one of the Natural Wonders of the World. The deafening roar of the water and the misty haze makes it apparent why local tribes called the falls, Mosi-o-Tunya, "the smoke that thunders." Stay two nights at the Royal Livingstone Hotel, stretching luxuriously along the banks of the Zambezi River. Relax this evening on your sundowner cruise on the Zambezi River above the falls.
ROYAL LIVINGSTONE HOTEL (BLD)

Day 11 Tuesday, October 13
Victoria Falls
You'll feel the mist and see the rainbows of majestic Victoria Falls
during a walk through the rainforest, with stops at viewpoints along the way. There is also a game drive in the Mosi-o-Tunya National Park.
ROYAL LIVINGSTONE HOTEL (BD)



Day 12 & Day 13, Wednesday & Thursday, October 14, 15
Chobe National Park, Botswana
Cross into Botswana, "jewel of Africa", to Chobe National Park. Chobe is known for its populations of elephant and buffalo, beautiful kudu, plus big cat predators. Game viewing is provided Tuesday afternoon, plus morning and afternoon on Wednesday. Enjoy a choice of land or water activities for the most complete game experience in the Chobe area. River cruises allow you to see animals as they come to the bank to drink and often happen upon hippos.
CHOBE MARINA LODGE (BLD)


Day 14 Friday, October 16
Chobe/Livingstone departure
A great send off -- enjoy a final game viewing drive this morning.
Mid-morning return to Livingstone to catch the return flights home via
Johannesburg. (B) Arriving same day.

It is not too early to register your interest in these opportunities. Write to us online: teleosinst@aol.com
Teleos Institute, 12000 N 90th Street #2025
Scottsdale, AZ 85260
We hope you will join us!
Contact: Teleos Institute, 7439 E. Beryl Avenue,
Suite 109 PMB 418, Scottsdale, AZ 85258
THE VALUE OF FOREIGN TRAVEL
BY MARIAMNE PAULUS
I became convinced of the value and importance of foreign travel when I was in my early 20's. Having spent three and a half years in Central and South America, I recognized that it is almost impossible to gain perspective on your own culture unless you spend time outside of it and are exposed to other ways of living and being. I would have liked every American to spend at least one year living in another culture.
Short of being able to achieve that lofty goal, OSO and I decided that, as part of our work, we would take people on Journeys Into Self in foreign countries. Over the past 33 years, we have visited over 40 countries, some of them more than once, on about twenty Journeys Into Self. We are satisfied that even two weeks of foreign travel can change your consciousness if you are open to that, as most who travel with us are.
On this past trip to Vietnam, Cambodia, and Thailand, I spent considerable time conversing with travelers who were not on Journeys Into Self but who have traveled widely. Some of them were from countries other than the United States. I was surprised to discover that nearly all of them shared traits that I value for the future of our Global Village.
To a person, these world travelers are ecologically conscious and concerned. Aware of pollution of air, earth, and water, these people value policies on the part of their governments that aim to improve and protect our global environment.
Everyone I talked to shared a conviction that war will never resolve the problems that are at the root of terrorism. All seemed to feel that poverty and the disparity between the rich and the poor are the most direct cause of terrorism, and all recognized that no matter how we would classify ourselves at home, in relation to the world's poor, all foreign travelers are rich.
Most people felt that religion is a divisive force around the world. The travelers were surprisingly broad-minded about religion, expressing tolerance for nearly all practices and beliefs as long as they are not imposed on others.
I had not set out to discover the attitudes and values of travelers, and of course I was dependent on those who could talk with me in English, even if only very limited English. But my overwhelming sense is that nothing contributes more to broad-minded thinking and nonjudgmental values than world travel. I continue to wish it for as many people as possible.
On this trip, we had four women travel with us on our Journey Into Self in Vietnam and Cambodia, with brief stops in Bangkok coming and going. Our explorations were colored by the Tsunami tragedy that had occurred only ten days before we left for Thailand. The history of the Vietnam war was also uppermost in our consciousness as we explored our personal memories and our current feelings. It was good to have Jane with us, who is a Canadian living in England, and Mary, who is a Canadian living in Canada. They gave our explorations additional breadth and depth.
I am grateful for one more opportunity to stretch myself toward more universal understandings and deeper awareness through the incredible privilege of foreign travel.