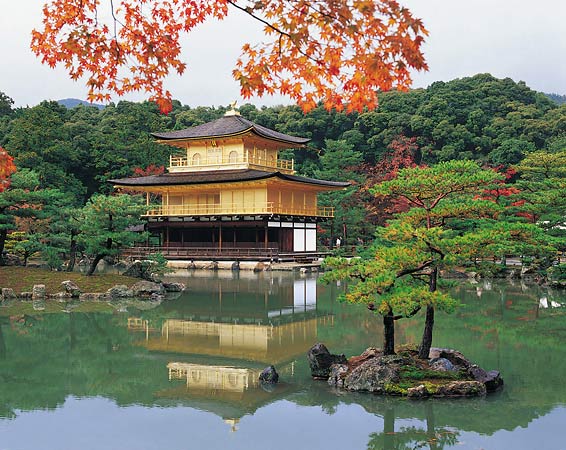 Enjoy a
A Journey Into Self
in JAPAN

with Arleen Lorrance and Diane K. Pike
October 18 to November 2, 2008 — 16 Days, 14 Nights
$4,744 — Land Only plus $600 — Journey Into Self
We are excited to have found a fully escorted tour that will give us a fabulous introduction to Japan and the Japanese culture. We will enjoy a colorful mix of large cities like Tokyo and Osaka, quaint and traditional Takayama, the ambiance and solitude of Miyajima Island, the ostentatious, over-the-top shrines and temples of Nikko, the religious center of Koya-san, the ancient shrines and temples of Kyoto and Nara, the testament to peace of Hiroshima, and more.
We will stay overnight at a mountaintop Buddhist temple where Buddhist monks will serve us meals of shojin ryori (the traditional Buddhist vegetarian cuisine), attend prayer services at the temple early the next morning, climb to the top of a samurai castle, participate in a tea ceremony, visit the world's largest fish market, stroll through farmer's markets, meet a "maiko" (geisha-in-training) face-to-face, see where the geisha live and work, stay overnight on beautiful and quiet Miyamjima Island, enjoy four gourmet Kaiseki-style dinners and much, much more.
Throughout, our lodging will be in ryokans, traditional Japanese Inns.
Our Journey Into Self meetings (held daily as travel permits) will focus on the Joy of Roots and Differences. We will explore together what we are learning about the Japanese culture, both ancient and modern, and compare and contrast it with our own, affirming the value of each. The Love Principles will inform our explorations as we seek to open our hearts wider in unconditional love while deepening our appreciation for our own roots and those of the Japanese.
For a full description of the tour, write to us at dkpike@aol.com or call 480-948-1800.
If you are interested in the tour, we encourage you to inquire immediately because the tour group is limited to 14.
---
JOIN US ON A JOURNEY INTO SELF IN SOUTH AMERICA
November 6 – 16, 2007
Cruise the Galapagos, Lima, Peru and Machu Picchu
November 16 – 28, 2007
Lake Titicaca and the Bolivian Altiplano, Buenos Aires; the Iguassu Falls; Rio de Janeiro
You can do either part of this trip, or you can join us for the entire journey.
The Journey Into Self:
This trip is planned and escorted by Mariamne Paulus and Arleen Lorrance (OSO) who have 35 years of experience in planning and escorting group travel. All your arrangments pre-trip will be handled for you and you will be guided through the things you need to take care of yourself. During the trip, Mariamne and OSO will oversee logistics so you can just enjoy your travel. In addition, each evening, travel permitting, the two women will conduct group sessions in which all can reflect on the experiences of the day. This broadens each person's perspective, helps to integrate and digest the events of the day, and opens the door to new and deeper friendships with fellow journeyers. The Love Principles (copies available on request) form the foundation for the Journey Into Self dimension of our trip.
November 6 – 16, 2007
Our journey will be launched from Miami (add-on fares from your local airport can be arranged) on November 6. We will fly into Guayaquil, Ecuador. Our five-day, four-night Galapagos cruise will begin from Guayaquil. We will enjoy the diversified wildlife on the several islands we will visit: for example, the famous Galapagos Giant Tortoise, the Santa Fe land iguana, the large opuntia cactus forest. We will also snorkel with sea turtles. Other wildlife includes sea lions, land and hybrid iguanas, and many fascinating birds, including masked and blue-footed boobies.
After our colorful Galapagos cruise, we will fly from Guayaquil to Lima, Peru, where we will have city sightseeing. The next day we will fly to Cusco. After adjusting to the altitude (almost 10,000 feet), we will enjoy seeing the city and attending a Folklore Show.
The next day we will take a full-day excursion to the Pisac Market and Ollantaytambo, and on the third and fourth day we will visit the spectacular ruins of Machu Picchu.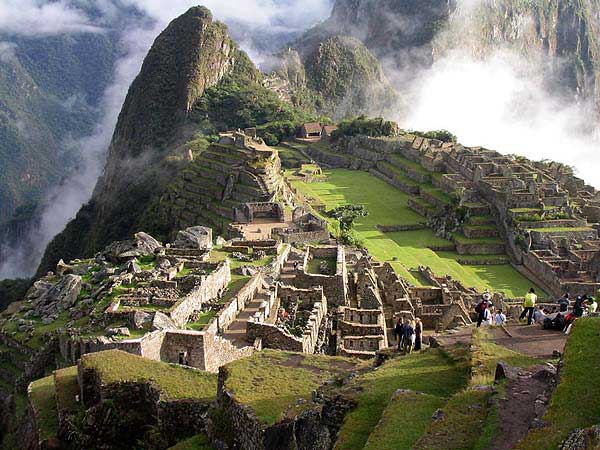 November 16 – 28, 2007
After a full day of rest and independent exploration of Cusco, we will travel by coach from Cusco across the Altiplano to Puno, on the shore of Lake Titicaca. We will stop along the way to visit several sites important to the Incas' mythological history. The next two days we will travel out from our lakeside hotel by Catamaran to enjoy the magnificent scenery of Lake Titicaca, visit the Aymara people, the floating islands, and other islands.
We will then travel from Puno to La Paz, Bolivia, by Catamaran and Coach. Our full day in La Paz will include a City tour and an excursion back to the Altiplano to visit the Tiahuanaco Ruins.
From La Paz we will fly to Buenos Aires, Argentina where we will spend three nights. City sightseeing, a Tango Show & Dinner, and an excursion to the Tigre Delta will be highlights.
We fly then to the fabulous Iguassu Falls on the border of Argentina, Brazil, and Paraguay. After two days of enjoying the falls we fly to Rio de Janeiro, Brazil, for a spectacular finish to our trip.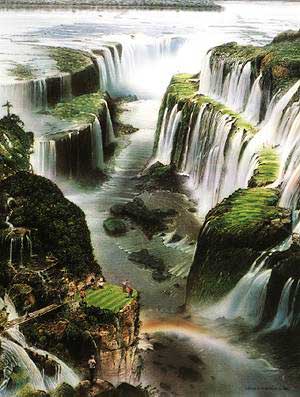 The Cost:
The figures we give you here include the Journey Into Self fee and the airfare and are approximate. Final calculations of the ground costs will depend on how many people are traveling. The prices given here are based on the four people already committed to go. Because ground costs will go down when we know how many people will join us, you should consider these numbers to represent the high end of final figures.
Some of you will want to use air miles, so that will change the airfare calculations (for your internal flights). And those who will use the group airfare may see those costs come down when we are six months out from our departure date and the airlines put up their discounted fares.
We ask you to commit to the trip by placing a deposit NOW, or as soon as possible, so that our travel agent can calculate final costs.
The final date for deposits is May 6, 2007.
Here are the approximate costs:
If you plan to travel from November 6 – 16 only, high end cost: Approx. $5,000.00 (including airfare)
If you plan to join us for the entire trip (November 6 – 28), high end cost: Approx. $9,300.00 (including airfare)
The Deposit:
$600.00 ($200.00 is nonrefundable)
Checks for the deposit should be made out to Diane Pike and Arleen Lorrance and mailed to 7439 E. Beryl Avenue, Suite 109 PMB 418, Scottsdale, AZ 85258. The balance of your tour costs (except for the Journey Into Self fee) may be paid by credit card.
Upon receipt of your deposit we will send you a day by day itinerary and a breakdown of costs.
Your Registration: